Summary
Biometrics is one of the unique identifiers which can be used to positively identify if a person is who they claim to be. Systems that utilize it have been actively used in different applications and industries to secure any transactional operation particularly in KYC (know-your-customer).    Banks or credit card industries have used a pilot version of their facial recognition system in order to verify payments instead of presenting valid identification cards for every transaction 13. One of the popular use cases for banks is a face recognition system as a security feature, currently available in Apple Devices.  With the emergence of off-the-shelf high-definition cameras (e.g. CCTVs, mobile phone cameras), there has been an increase in the development of applications which leverages on their portability, accessibility, and cost.    Akin to biometric systems, face recognition systems identifies or verifies users (e.g. for access such as secured devices or facilities) based on the facial features measured from the images taken by a camera.  The proposal is on the proof-of-concept on the feasibility of the usage of different off-the-shelf cameras for a facial recognition which will be used as an identity verification system whose application can be used to KYC use-cases, time-in/time-out (TITO) or tracking and surveillance.
Introduction
Identity fraud has grown rampant in the Philippines since the dawn of the 21st century. From the year 2013-2015, the PNP-ACG (Anti-Cybercrime Group) reported 1211 cases of cyber-fraud as stated in the Manila Standard¹². 555 cases were reported for the period of 2016 to March of 2017. Government officials fell victims to identity theft when Senator Bam Aquino and a few other senators had their emails hacked. Sen. Bam Aquino reported that falsified emails were sent to certain staff members and senators². As technology grows exponentially each year, so will the capability of hackers and criminals in attaining personal information for financial gain or other means.
According to Finklea, Identity fraud is depicted as a crime committed under a false identification³. He further explains that Identity Theft branches from Identity Fraud³. Identity Theft on the other hand, as described by Stuart Allison, is the act of taking someone's personal information for financial gain or other malicious intentions¹. These individuals are interested in targeting social security numbers and other government issued IDs. Utilizing these numbers and IDs grants thieves the ability to create new bank or credit accounts in the person's name¹. In lieu of this act, future criminal activities will be recorded in the victim's name. Taking out loans, claiming tax refunds, cash advances, remittances, and credit applications, are other possible ways for these individuals to achieve financial gain³.
Branching out further from Identity Fraud is the act of creating falsified documents or fake identities. As reported by the New York Times site, an area around Recto Avenue in Manila has been a marketplace for forgeries and falsified documents services¹¹. Construed as a University, dubbed as "Recto University". Characterized as a retail that offers services such as diplomas, passports, licenses, foreign or domestic issue¹⁰. The Philippine National Police Criminal Investigation and Detection Group (PNP-CIDG) have had multiple investigations and raids within this site throughout the years. Around late 2011, a raid on a fake presidential agency took place. The police officers reported that the employees of this false agency wore uniforms and even bore the seal of the president of the Philippines among their identification cards¹¹. Recently, the PNP-CIDG raided several establishments of the forgery marketplace of Recto arresting seven men suspected of partaking in these criminal acts¹⁰.
The objective of this proposal, therefore, is to utilize facial recognition within remittance centers' systems in adequately cross-checking clients identities to their presented IDs. Thus, forfending fraudulent transactions in the future.
Face recognition applies image processing techniques in order to to recognise a unique faceprint using information from stored images. It uses techniques such as pattern recognition from machine learning and deep learning algorithms to identify features of a face in order to validate identity. Over the years, face recognition has been used in various applications in media, psychology, and security. In recent times, more companies have begun to investigate and invest in the use of real-time face recognition applications to tighten security measures in the workplace.
Traditionally, companies have turned to manual and automated systems of monitoring employee attendance through clock in systems, biometrics, and RFID (Radio Frequency Identification). Employee time and attendance systems are particularly important for monitoring employees in remote worksites and construction sites. 
In the Philippines last 2017, only 9% of the personal consumption and expenditures are accounted through credit cards or debit cards 14.  According to a VISA (a known credit card company) study, majority of Filipinos prefer cash transactions because of safety and convenience despite a 65.1% bank presence in cities and municipalities (90.1% in municipalities has at least one access point) in the country (according to the Bangko Sentral's 2017 Financial Inclusion Initiatives report 15.  And with this, most transactions conducted are still in cash which allows money-transfer centers such as Western Union, LBC and others to thrive.  However it is to be noted that these can be an avenue to conceal the transformation of profits from illegal activities and corruption to ostensibly "legitimate" assets (also referred to as money laundering16) by sending the money through the center using false identities.  Securing such transactions and verifying the identity of the people who claim and use these services are important in preventing money-laundering.
In order to develop a robust face recognition system, agnostic to the devices and conditions in which they were taken, several factors need to be considered 17:
Overall speed of the system from detection to recognition should be acceptable, that is, within almost real-time, particularly if it is for security and surveillance,

Performance should have high accuracy, and 

System should be scalable, easily updated, and enlarged, that is easy to increase the number of subjects that can be recognized to take into account visitors or new employees.
The limitations of these systems have been identified however, as being inefficient, being limited in flexibility and mobility, causing high overhead costs, and resulting in erroneous results. Real-time face recognition systems aim to address these variables by minimizing risk factors and human intervention.   The application of facial recognition in this project therefore aims to review the methodology for three possible purposes: tracking – , intrusion detection. – surveillance and monitoring; security.
Related Literature
Face Recognition Systems: Academic Benchmarks
Facial recognition systems for tracking attendance of employees or students has been considered an improvement to the existing technologies for door security. Biometrics authentication tools analyze fingerprints, faces, iris, retinal patterns, voice, palm prints, penmanship, etc. These tools which include barcode readers, radio frequency identification (RFID) system, bluetooth and near-field communication (NFC) are sometimes expensive and have limited functionalities18.
Facial recognition systems require a camera for detecting human faces. Patel, et al used Viola Jones algorithm and linear stretch contrast enhancement in detecting faces. Moreover, they used Principal Component Analysis (PCA) and Linear Discriminant Analysis (LDA) for facial recognition. Application of Computer Vision techniques in this aspect is essential for automating student attendance systems18.
Another recent work in this field is that of Sathe et. al. where Viola Jones method was applied for facial detection and PCA for recognition to automate door locking. There is an emphasis on the saturation in the recognition rate with increasing number of faces to be identified19. Owandkar et al also used the same algorithms for facial detection and recognition to assist attendance monitoring systems20.  On the other hand, Paharekari, et al. used K-means clustering and Haar feature-based cascade classifiers to detect students' faces. The main objective of using facial recognition in their study is to reduce paperwork, keep the parents informed about student's performance and provide easier attendance recording in a college class 21.  Another approach in identifying human faces is using histogram of oriented gradients (HOG) descriptor technique to detect facial frontal view. A classifier is trained from the generated images that are passed through a deep neural network. Finally, new faces are recognized by means of Support Vector Machine classifier22.
The website of Labeled Faces in the Wild (LFW) covers and cites over 100+ publications and patents that have used their dataset for benchmarking their results23.  Some of the top performing algorithms are summarized in Table 1 and most have achieved at least 99% accuracy rates. However as mentioned, despite performing well in the dataset, one of the main requirements on building a good model for the faces would be the availability of variable images from the same identity to ensure its robustness when using multiple camera devices for the system.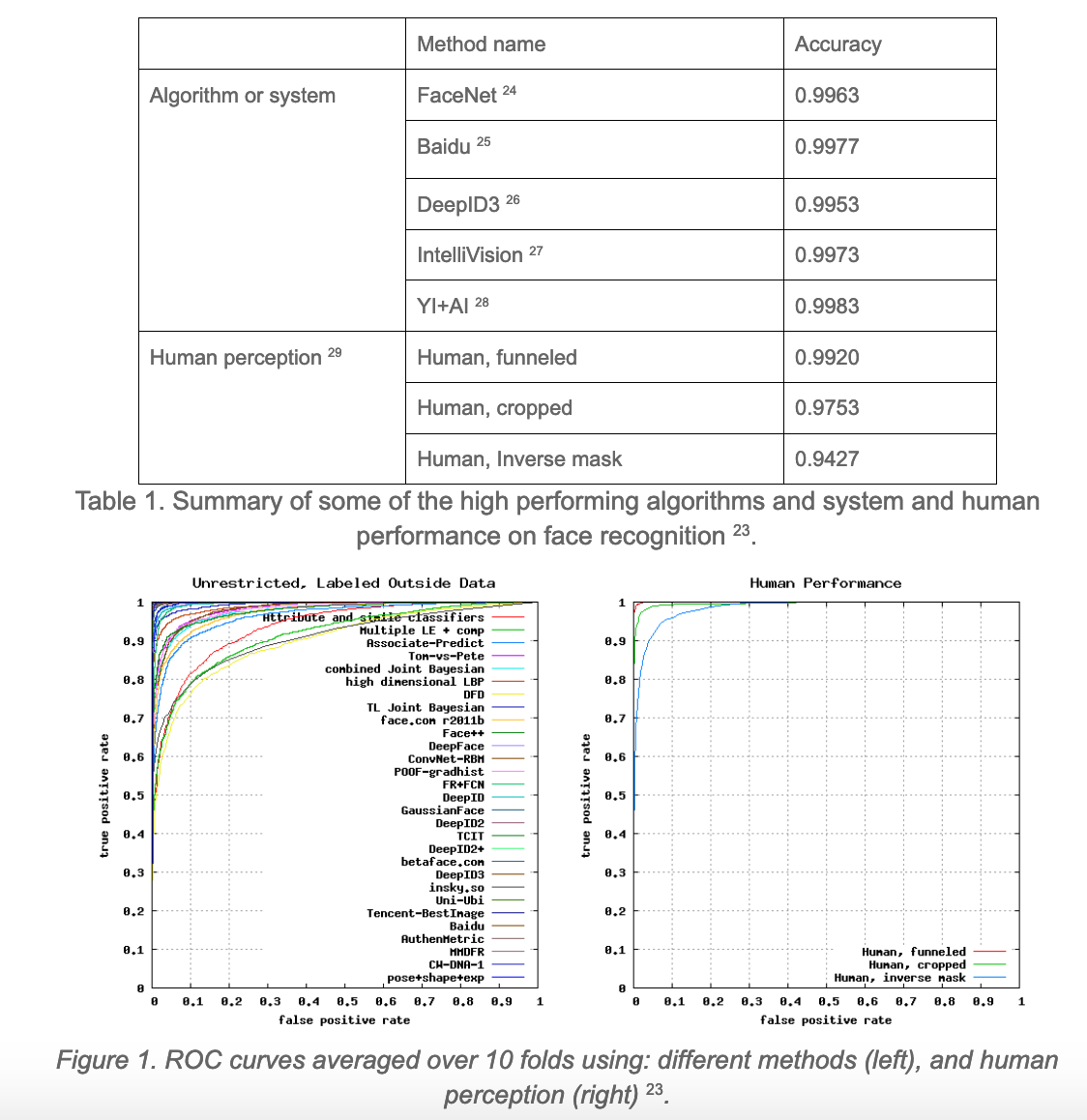 Industry application: Time-in/Time-out
The following brands are the best time attendance systems that utilize facial recognition for the year 2017. These products and services provide a quick and touch-free validation of employee attendance and avoids "buddy punching", unauthorized absences and time theft. Automation of these tasks increases workforce productivity 18.

Industry Application: Identity Theft/Fraud
Identity theft services are available to the public. Services such as monitoring credit card activity, medical insurance protection, changes in contact details, or alerts on crimes committed in your name are some of the key selling points by the providers. However, most of these services are only available in foreign countries and are not centered around Facial Recognition software applications. Some of these providers cater similar services to this study's envisioned final product.
IdentityForce is an identity theft protection provider for the US. Their services range from credit and dark web monitoring, alerts of every transaction, medical insurance protection and recovery of lost or stolen identification cards⁵. They specialize in monitoring credit activities and personal information, which is easily utilized through a dashboard. LifeLock is another identity theft provider with similar services like IdentityForce. They specialize in mobile services and notifications of crimes committed in your name, ideal for those who make transactions on their phones⁷. IDWatchdog on the other hand grants their clients with services after being a victim of fraudulent transactions or identity theft⁶. This is the selling point of IDWatchdog as other identity theft protection providers do not have this feature.

Industry application: face recognition systems
https://www.trueface.ai/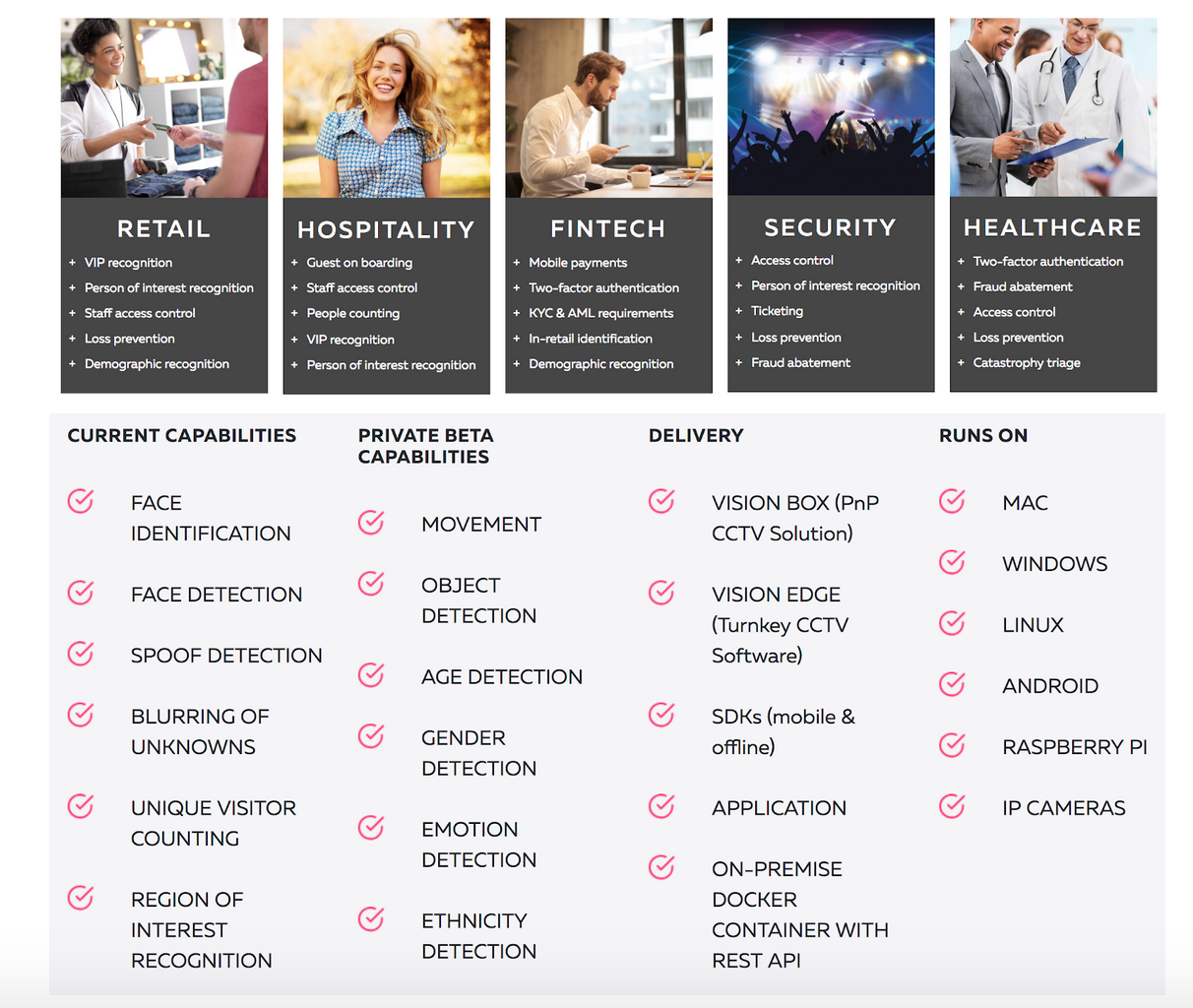 Objectives
The project aims to resolve the mismatches of client's identities through the implementation of a facial recognition system.  The objective is to build a facial verification system with images taken using several low-cost mobile devices and measure its performance (using validation and false positive rates).  The project focuses on the technical feasibility of using facial recognition system on Filipino faces as a means of identity verification on a non-ideal setting. Among which will also be investigated are as follows:
minimum image resolution requirements to achieve high precision and recall on the system

minimum number of images of subjects

scenarios or use-cases in which the system may perform well or not
Goal Statement
The objective of the project is to create a facial recognition system capable and efficient in identifying mismatches of client's identities to requested transactions. The AI software will monitor the transactions by cross-referencing the given ID to the respective identity within the system. Consequently, the system's security will be strengthened. Concurrently, the client's identity will be safeguarded. So through this program, it will forfend possible fraudulent transactions, identity theft, and unauthorized access.